Justine Skye Granted Restraining Order Against Sheck Wes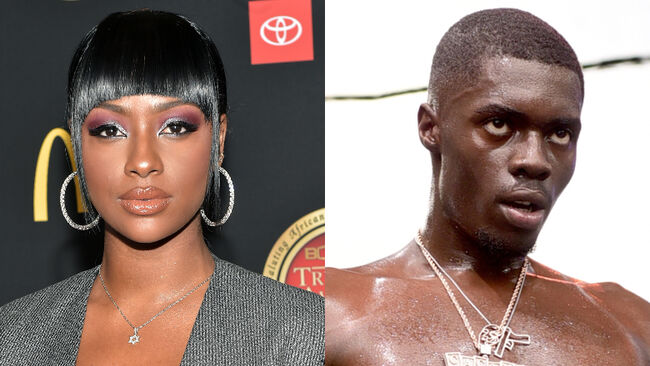 Justine Skye's domestic violence restraining order against Sheck Wes has been granted.
According to The Blast, Justine's order was granted on Friday (February 15), and her ex-boyfriend Sheck now has to stay 100 yards away from her until a hearing next month.
In her request for a restraining order, Justine reportedly detailed an incident that took place on Monday (February 11) where she claims Sheck "orchestrated a plan to stalk me and viciously beat my boyfriend and our friends in front of me in public." She added that at least 10 other men were part of the attack, The Blast reports. The "Build" singer additionally stated that as a result of the alleged incident, she does "not feel safe and I believe my life is in danger." Justine also cited a July 2018 incident in the docs, claiming the "Mo Bamba" rapper "threatened to punch me in the face, headbutted me, told me he was going to 'hurt me.'"
As previously reported, on Monday, the 23-year-old singer, who revealed that she was a survivor of domestic abuse back in October, took to Twitter to accuse Sheck of stalking her and her friends, claiming he previously put "hands" on her. "Taking a walk with my friends and my man and Sheck Wes (my abuser) and his friends decide to STALK US and attack my friends.. two cars full of ni**as while he sat in the car like a b*tch. You're pathetic sheck and you beat women. You hit your girl before me and you'll do it again," she wrote. "You're pathetic... and all the people defending you, ya whole bitch a** label.. everyone. You spreading lies about me. Moral of the story is, if you never put your hands on me.. you wouldn't be in this situation and you just keep making it worse."
Sheck later responded to the allegations against him, writing on Twitter: "I've chosen to remain silent until now out of respect for actual victims of abuse. But I cannot stand by while lies are repeatedly told about me. I never hit or beat any women and I did not beat up or jump anybody." His denial only triggered Justine to share what she called proof of his alleged abuse, as she wrote on Twitter: "I literally have footage of you jumping over the fence of my crib to attack me Sheck... your lies are even more disrespectful." She then shared the footage along with text messages between her and one of Sheck's friends. "All your friends know what happened," she captioned a screenshot of her asking Sheck's friend by the name of "Chase B" to send help back in July after he allegedly attacked her. The former couple's back-and-forth continued on Twitter throughout the day with each party continuing to throw out accusations about the other.
If you or someone you know is suffering from domestic violence, please contact the National Domestic Violence Hotline (1−800−799−SAFE).
Photo: Getty Images