Jussie Smollett Case: Suspects Released Without Charges, New Evidence Found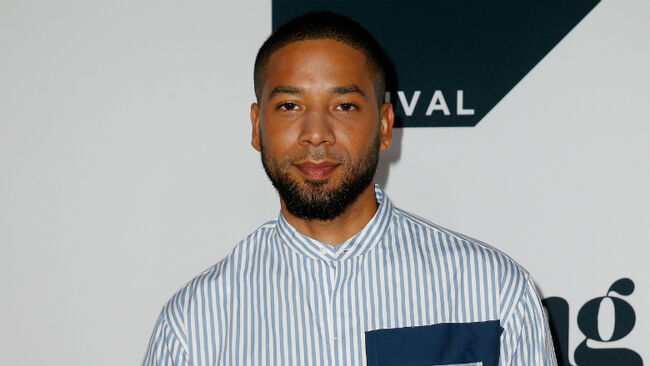 After two days of questioning, the Chicago Police Department announced on Friday (February 15) that it has released the two "potential suspects" in the Jussie Smollett case without filing charges.
"Due to new evidence as a result of today's interrogations, the individuals questioned by police in the Empire case have now been released without charging and detectives have additional investigative work to complete," Police spokesman Anthony Guglielmi tweeted.
The alleged suspects — Nigerian brothers Olabinjo and Abimbola Osundairo — were booked on battery (not charged) on Wednesday (February 13) evening. While the nature of the brothers' relationship with Jussie remains unknown, Olabinjo previously played an inmate on Season 2 of Empire and both men reportedly go to the same gym as Jussie on occasion.
It was also announced on Friday that high-powered defense attorney Michael Monico, who represented Donald Trump's former lawyer Michael Cohen in his criminal case, is now representing Jussie. The move comes after the Chicago PD released a statement denying reports that Jussie's attack was staged following online speculation about the 36-year-old actor's story. "While we haven't found any video documenting the alleged attack, there is also no evidence to say that this is a hoax," Anthony told People. "The alleged victim is being cooperative at this time and continues to be treated as a victim, not a suspect."
20th Century Fox Television and Fox Entertainment also released a statement Thursday (February 14), standing by Jussie and slamming a rumor about his attack. "The idea that Jussie Smollett has been, or would be, written off of Empire is patently ridiculous," the statement said. "He remains a core player on this very successful series and we continue to stand behind him."
As previously reported, the 36-year-old Empire star was assaulted in Chicago around 2 AM on January 29 by two men wearing ski masks. Jussie had just arrived in the city from New York and made a late-night run to a Subway when someone reportedly yelled: "Aren't you that f**got 'Empire' n**ga?" The two attackers then proceeded to jump the actor. While Jussie said he fought back, he was ultimately overtaken by the men. During the attack, the suspects also reportedly put a rope around Jussie's neck and poured bleach on him. Jussie ribs were fractured and he was admitted to Northwestern Memorial Hospital for treatment. He was released soon after.
Earlier this week, Jussie gave his first interview since the attack. He opened up to Robin Roberts in an hour-long Good Morning America interview, detailing his January assault. He first clarified a few mistruths, telling Robin he never described the two attackers as wearing MAGA hats, despite early reports. He explained that his attackers said, "This is MAGA country" when they ran off. "They called me a fa**ot. They called me a ni**er. There's no which way you cut it, I don't need some MAGA hat as the cherry on a racist sundae," he recalled.
While setting the record straight, Jussie admitted that he's "pissed off" at the men who attacked him — and by the attacks of those who have doubted his story. "It's like, you know, at first, it was a thing of, like, 'Listen, if I tell the truth, then that's it,' because it's the truth," he said. "Then it became a thing of like, 'Oh, how can you doubt that? Like, how do you — how do you not believe that? It's the truth.' And then it became a thing of like, 'Oh, it's not necessarily that you don't believe that this is the truth, you don't even want to see the truth.'" Jussie added, "If I had said it was a Muslim or a Mexican or someone black, I feel like the doubters would have supported me a lot more."
Photo: Getty Images