Listen To Jennifer Lopez's New Single 'Dinero' Featuring Cardi B, DJ Khaled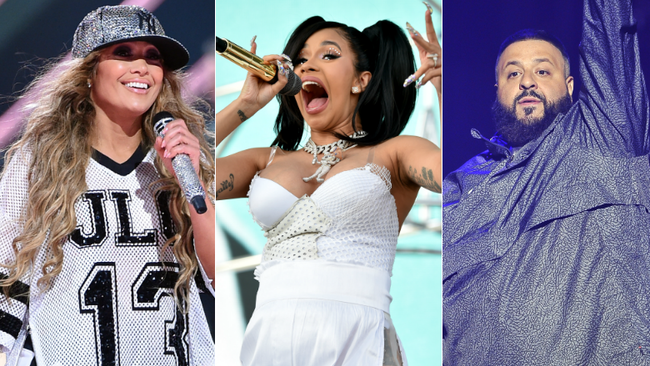 Jennifer Lopez's new collab "Dinero" featuring Cardi B and DJ Khaled is just as fiery of a money-boasting anthem as you could imagine it to be.
On Thursday (May 17), the all stars dropped the bilingual collab and it hears the trio celebrate good ol' cash atop a gritty trap-esque beat. Unsurprisingly, the song also incorporates plenty of Spanish as Lopez and Cardi hone in on their roots for their verses. "Yo quiero, yo quiero dinero, ay/ I just want the green, want the money, want the cash flow," Lopez chants during the trembling hook. Meanwhile, Khaled appears throughout the cut, hyping up the Bronx stars with some very Khaled-like one-liners.
You'll likely see the debut performance of "Dinero" at the 2018 Billboard Music Awards on Sunday night (May 20) when Lopez hits the stage. Among the other performers set to hit the BBMAs stage include Icon Award recipient Janet Jackson, Ariana Grande, Kelly Clarkson, BTS, Camila Cabello, Dua Lipa, Shawn Mendes and more. Keep your eyes peeled for more from the show, which will be hosted by Clarkson live from the MGM Grand Garden Arena in Las Vegas on Sunday, May 20, at 8 PM ET / 5 PM PT on NBC.
Earlier this week, Lopez made headlines for her InStyle.com Q&A, where she spoke about being pressured to lose weight in the early stage of her career. "I got a lot of flack for it from people in the industry," she says. "They'd say, 'You should lose a few pounds,' or 'You should do this or do that.' It finally got to the point that I was like, 'This is who I am. I'm shaped like this.' Everybody I grew up with looked like that, and they were all beautiful to me. I didn't see anything wrong with it. I still don't!"